Lammas, or Lughnasadh is a cross quarter holiday celebrated by some, but not all Pagans on August 1st or 2nd. It also falls near the Green Corn Feast celebrated by certain Native American tribes, including my own Cherokee people. It is the first of the three great harvest feasts, and celebrates the ripening of the corn and other grains.
We celebrate with a "corn feast" which means homemade enchiladas, Mexicorn and all sorts of other corn based goodies.
Lughnasadh is a bit of a lesser known pagan holiday but I have created some Lughnasadh, Lammas and Green Corn Feast greeting cards and I noticed that a few more talented artists have also posted their contributions to Zazzle. Now would be a good time to order Lughnasadh, Lammas, or Green Corn Feast greeting cards to send to pagan friends and family in time for the holiday!
Merry Lughnasadh Card
by
foovay
See more
Lughnasadh Cards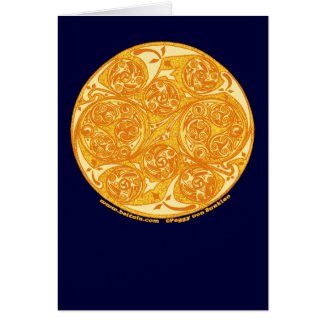 Celtic Spiral Card, Sun Mandala Design
by
Beltain
Create card
designs on Zazzle
Welcome to Lughnasadh Greeting Cards
by
foovay
Create cards
on zazzle.
Lammas Inspirations Card
by
shannonsuzanne
Browse other
Sabbats Cards
Bountiful Harvest Card
by
dgd_media
Browse
Lughnasadh Cards