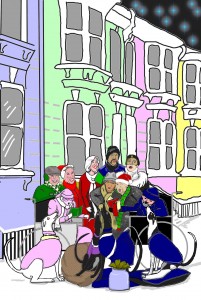 I recently had the great pleasure of illustrating the new children's Christmas book -The Best Christmas of All. Copies will be sold to benefit Friends of Crayford Retired Greyhounds, as well as posters of some of the artwork I created for the book.
You can purhase your copy of The Best Christmas of All and read more about it, as well as see more of the illustrations at this link
Working with Ms. A de Sant was a real pleasure and we are planning more collaborations in the future.
Summer Fey Foovay